RAJAR has invested in an on-going programme of development and innovation geared to maximising accuracy, accountability and quality of data. The digitisation of the medium has created new demands, and in response, the survey has been adapted to measure all individual listening platforms – online/apps, DTV set top receivers, and DAB Digital Radio as well as traditional analogue radio (AM/FM).
Mobile Diary App
With the successful introduction of the Online Diary back in Q3 2011, RAJAR has again improved representation by adding a mobile version of the diary to the field in Q1 2016. The mobile app version of the RAJAR diary www.radiodiary.co.uk (download via iTunes and Android Store) offers the participant the choice to complete the diary by smartphone, tablet or both. The app has been created via a joint venture between RAJAR, Furthermore (www.furthermore.co.uk) and Shed Collective (www.shedcollective.co.uk).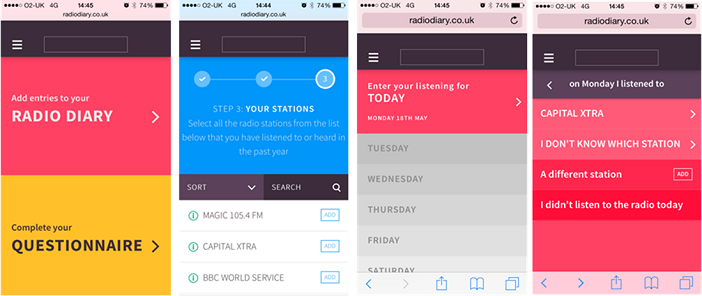 MIDAS
Finally, with the introduction of the online diary, RAJAR now has the ability to re-contact previous survey participants in a cost-effective way. As new listening devices and capabilities emerge, conventional patterns of media consumption are evolving and progressing. To meet this challenge, RAJAR releases a quarterly Audio Survey called MIDAS. This data is named and released in Spring, Summer, Autumn and Winter of each year. MIDAS (Measurement of Internet Delivered Audio Services) provides a new layer of insight into emerging listening behaviour and provides us with additional understanding into various audio types including podcasting, listen again, on demand music services, as well as live radio.
The benchmark MIDAS study was released in Autumn 2013 and has gained momentum ever since, with the MIDAS data being incorporated into various studies and appraisals within the radio industry. The results from these studies can be found under the News section of the RAJAR website.